Product Description
On sales now at best price for this Rangeman GW-9400BJ-1JF that comes with Carbon Kevlar inserts, Multiband 6, Digital compass, Barometer, Altimeter, and Thermometer. This G-Shock Carbon Strap 9400BJ is a JDM (Japanese Domestic Market) watch model and it's now in our stock - ready to ship within 48 hours to any country. So buy now before it's too late!
We are Top Rated Seller since 2009. Buy with confidence or feel free to review our daily customers' feedback at; Ebay Site
The Casio GW-9400BJ also can be purchased from our Ebay Auction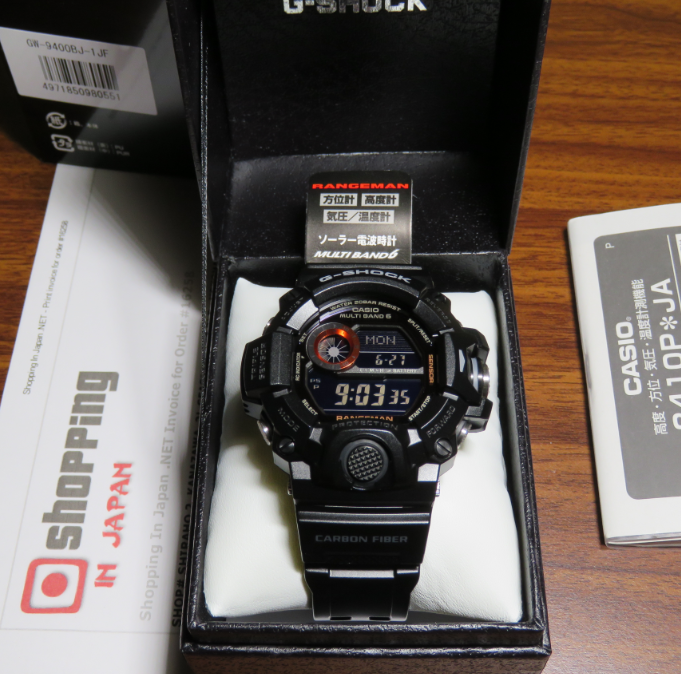 Specifications;
Atomic Multiband 6
Digital compass
Barometer (Measuring range : 260 to 1,100 hPa)
Altimeter (Measuring range : -700 to 10,000 m)
Thermometer (Measuring range : -10 to 60 °C)
Stop watch (1/100 second measurement , 1000 hours meter , Split)
Countdown timer
5 multi-alarm (Snooze function)
Hourly time signal
Battery indicator
Power saving function
Fully auto-calendar
12/24 Hour display switching
Button Operation Tone on/off
LED-backlight
Approx 23 months Power Saving Mode
World Time 48 cities
Daylight Saving Time function
Auto reception (Max 6 times/day)
Shock Resist
20 BAR waterproof
Inorganic glass
Carbon Kevlar inserts synthetic Band
Tough Solar (Solar charge system)
93 g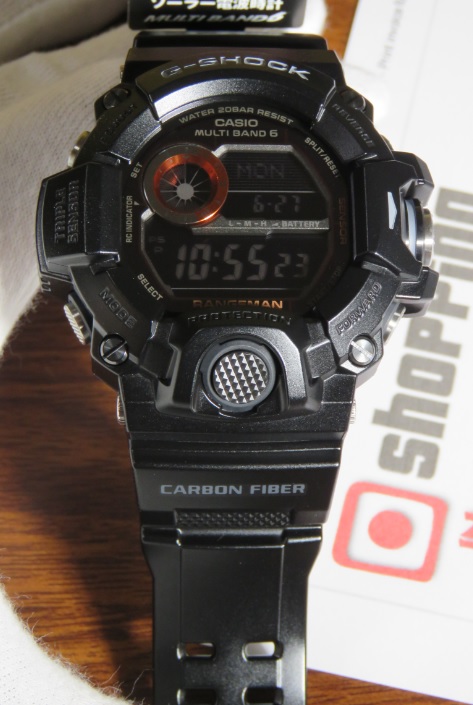 Other Details
Casio Japan warranty is included (valid for 12 months)
Product Videos
Custom Field
Item Condition
Brand-new, unused, and in the original factory packaging
Ship By
International Express EMS Japan Post (Insured) 3-8 days to most countries
Payment
PayPal, Credit Cards, Money Order, Western Union, Bank Transfer
Import Duty
Import taxes, duties, VAT may be charged in some EU countries
Authenticity
The product is 100% genuine and authentic with a manufacturer's serial number
Returns
Worry-Free 14 days money back guarantee
Product Reviews
excellent product from Casio, Best G-Shock of all time

manufacturing quality is impressive of solidity
the carbon fiber bracelet is very soft and durable
negative display is much more convenient than previous Casio models, all functions respond very quickly

definitively the Best G-Shock ever made by Casio

Great watch to my son's birthday. A delivery rates, the Moscow 4 day, without any comments. I will take more. Thank you.
Отличные часы, сыну на день рождения. А скоросить досатвки в Москву 4ре дня вообще без комментариев. Буду брать еще. Спасибо.

Brilliant work of masterpiece

The product took no time to arrive, but it was sat in UK Customs for 3 days and they slapped on VAT! In all it took about 2 weeks. There's Youtube tutorials for this watch which helped me a lot in using it. It really is a nice bit of kit. Shopping in Japan were very good in keeping me up to date with delivery progress., will use them again. I recommend this watch highly.

Nice watch design & price

Good watch. But black LCD is hard to read. But I like it. For the atomic time setting , it does not in Thailand as I knew before buying it. For 3 sensors. It works well and acceptable even it is not 100 % correct which it is not design for that purpose. +/-3% is fine for me . Overall I like it. I gave 4 star.

the service is great but I couldn't read the numbers on the watch screen due to the negative display, the band also hurt my wrist by the outside button at 3 o'clock.

This watch is an excellent piece of kit. The service from shopping in japan, Was excellent. Received the product in less than 5 days to the UK! Will be using this website again! Thank you.

It would be better if I could have a English introduction / user manual to learn the item well.

Thank you for the accurate product description and extremely fast shipment to the United States! The watch arrived in perfect condition and I've spent the last few days wearing and testing all the functionality. Needless to say, I'm thrilled with its performance and I plan on being a repeat customer! Thanks again!