Product Description
Back in stock for this Seiko Brightz SDGM003 Mechanical Automatic winding that comes with Sunburst Dial, Comfotex material, sunburst dial, curved sapphire glass, Stainless steel with Diamond Shield.

We are Top Rated Seller since 2009. Buy with confidence or feel free to review our daily customers' feedback at; Ebay Site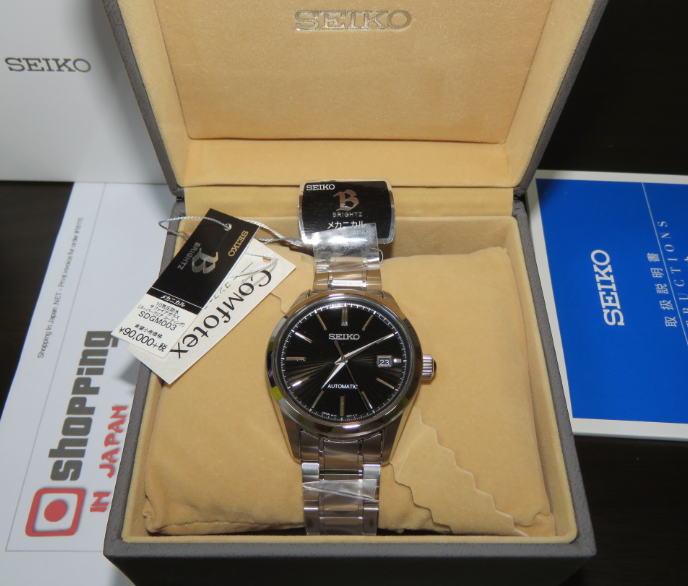 Specifications:
Stainless steel Case and Bracelet with Comfotex material
Diamond Shield
Curved Sapphire Glass
Screw back
See-through back
Mechanical Automatic (with manual winding)
23 Jewels
Date display
Second hand stop function
Mechanical - Automatic winding (with manual winding)
Accuracy +25 seconds ~ -15 seconds per day
10 bar waterproof
Caliber n. 6R15C
Water resistant depth 10 ATM
48.6 x 40.5 millimeters Case diameter
11.5 millimeters Case Thickness
20 millimeters Band width
Black Dial color
165 g Item weight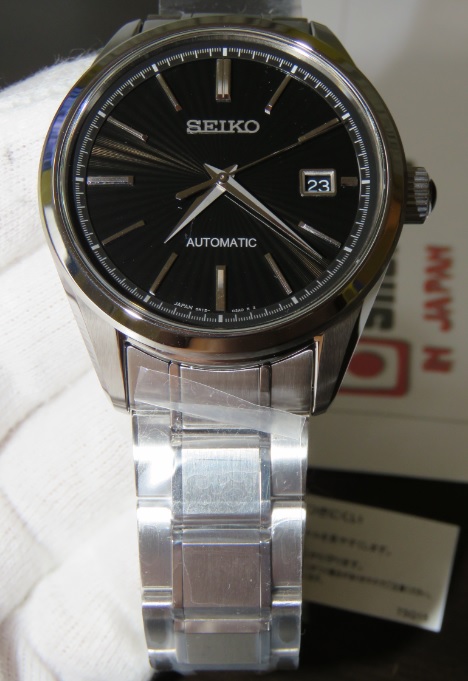 Other Details
Seiko Japan warranty is included (valid for 12 months)
Product Videos
Custom Field
Item Condition
Brand-new, unused, and in the original factory packaging
Store Location
Yokohama, JAPAN
Ship By
International Express EMS Japan Post (Insured) 5-8 days to most countries
Payment
PayPal, Credit Cards, Bank Transfer, Bitcoin
Import Duty
Import Tax or VAT may be charged in the EU and some countries
Authenticity
The product is 100% genuine with a manufacturer's serial number
Returns
Worry-Free 15 days money-back guarantee
Stunning "Grand Cocktail" is superlative value.

No video or photo can do justice to this watch. It catches the light in a most striking way. The build quality and finishing is superb, from the polishing and brushing to the well executed case and fantastic bracelet. . I'd say this is easily worth 3 times the cost of the good, but obviously inferior SARB033. I'd still recommend both at their respective price points. I'd urge anyone to buy now as both models are discontinued. Service from Shopping in Japan was excellent with updates and tracking all the way. Arrived in the UK within a week.

Great watch and great customer service

Seiko SDGM003 is really amazing for this price !! Great design and very good attention for details. This is my first automatic watch and I'm happy to chose this Seiko for his great value for the money. Shopping in Japan is a professional seller: fast delivery, great customer service, product in perfect condition and latest version (I received the 6R15D movement inside). In particular I appreciate the support from Sara (Export Coordinator) in answering my questions and giving information about delivery procedures. I suggest the watch and the seller !

Incredibly tasteful and thoughtful design, no ostentation just sheer class. The design is graceful, elegant and very slightly understated. Readability is exceptional thanks to the sword hands and the beautifully polished indices which catch the light in a way I've never seen before; at certain angles you'll see small well-defined glints of white light, at other angles there's a rainbow shimmer. The crystal is so transparent as to appear non-existent at times, and the subtle sunburst on the dial produces thin fans of soft light. I haven't seen quality this outstanding at anything like this low a price.

I get excited when I put it on.

The biggest cliche amongst watch nerds is "pictures don't do it justice". Well, this is a case where that ol' saw is 100% correct. This is by far the nicest bracelet, finish and dial of any watch under $1000 I have worn or seen. Nice proven movement as well. I also like the funky touches like the onyx crown and the sunburst dial pattern, which give it character to differentiate it from Seiko's other dress offerings in this price range.

Not a spring drive ,but very close. In accuracy

You will not be disappointed !

Amazing watch and quick delivery to the UK

SDGM003 Brightz роскошные часы

Мне давно нравились часы SGDM 003 Brightz, когда понял, что скоро их не возможно будет найти, решил купить. В Shoppinginjapan.net я уже несколько раз покупал часы и очень доволен обслуживанием. С каждой покупкой часов получал сертификат в 20$ (это скидка на следующую покупку),приятно. Отправлен был заказ мне сразу при получении денег. Посылку получил очень быстро, за 10 дней. Координаторы Mina и Sara всегда внимательно, заботливо и большой ответственностью относились ко мне. На все вопросы были получены ответы быстро и мои просьбы были выполнены. Всегда поддерживали связь со мной до получения посылки. Последний раз, когда посылка была задержана на таможне, Sara сразу, без моей просьбы, предложила помощь в случае каких либо проблем и если нужны были какие либо дополнительные документы, готовы были сразу мне их выслать. Такое заботливое отношение подкупает и сейчас не всегда можно встретить такое внимание к клиенту. Большое спасибо и уважение. Мои впечатления о часах. Часы SGDM 003 прекрасные, выглядят они ещё красивее, чем на каких либо фото. Отличаются своей роскошью и индивидуальностью, великолепным, изысканным дизайном. Прекрасно смотрятся полированные и шлифованные грани на корпусе часов и браслете. Предаёт изюминку этим часам, камень оникс, которым украшена заводная корона, мне нравится. Сапфировое стекло с высокой степенью прозрачности даёт ощущение отсутствия стекла, действительно комфортно смотреть . Циферблат очень красивый, переливается лучами и меняется в цвете, в зависимости от освещенности, циферблат на солнце может немного отдавать в коричневый оттенок, что позволяет использовать не только чёрный цвет ремешка, но и темно коричневый. Дизайн стрелок очень хорошо сочетается с лучами циферблата. И ещё, что мне понравилось в этой модели, по моему мнению, это важно, сочетание одинаковых прямых шрифтов надписей "AUTOMATIC"и "SEIKO", которые гармонируют друг с другом и предают часам другой, более высокий уровень. Впечатляет прекрасный в своём классе калибр 6R15, автоматический с ручным подзаводом, противоударным устройством (Diashok), запасом хода (50 часов), хорошей точностью, которая даже превосходит заявленную. С такими характеристиками могут сравниться только люксовые часы, но они многократно выше в цене. С обратной стороны через прозрачное стекло можно видеть работу механизма, который сдержанно украшен в стиле Seiko, конечно можно было бы украсить эти часы более в дорогом исполнении. Но это моё сугубо личное мнение. Водонепроницаемость 100м (10 bar) для классических часов большой плюс в Seiko, что внушает уверенность и надежность. Качество исполнения часов просто превосходное. Кто не может себе позволить Grand Seiko Аutomatic, прекрасный выбор SDGM003 Brightz покупайте, не пожалеете. Считаю, что SDGM003 Brightz безусловно роскошные и лучшие часы в своём классе, могут создавать конкуренцию люксовому сегменту. Рекомендую делать покупки в Shoppinginjapan.net. Большое спасибо, Mina и Sara. C уважением Андрей.

My first automatic watch. I was debating between the Sarb, Sarx, and the SDGM. I chose the SDGM because it had a more refined bracelet than the Sarb. I chose it over the Sarx line because the sunburst dial and black onyx crown had more character in my opinion. This is a great watch. Seiko has great value for the money!

Almost a ... Grand Seiko!

Almost a ... Grand Seiko! Unparalleled finishing, utmost quality, outstanding value! A truly gift from Seiko to all the real Japanese watches lovers who can't afford a Grand Seiko watch! Astonishing work of the Seiko Team!

The best seiko I have owned.

This is the best seiko I have owned. I have the sarb033 as well. But, the build quality and the dial and the crown and almost everything else of the sdgm003 is way above the sarb033. Only comparable is the movement is the same in these two siblings. Comfort Tex is no gimmicks. It really makes the experience of viewing so so so much better. This is one main reason I stop wearing my Sarb. The crystal is just always so "foggy " looking to my eyes due to the reflections of lights. As for the service of SIJ. It is also flawless. Fast shipment. Responsive seller. Thanks again.

very beautiful watch, delivered on time, with no problems

Let me start by saying that photos do not do justice to this watch. The quality of finish is impeccable for the price range. Reflections of light are beautiful on the band and the case, and simply amazing inside the dial. The hour markers are mirror polished at their end towards the center of the dial, as well as on their sides. Their tops are finished in a hairline pattern, similar to the sunburst dial, only the lines are parallel, running across the length of each index. This produces a modest prism effect under some angles. The sword hands are half mirror half brushed finished. The large seconds hand is mirror polished. The anti-reflective coating on the sapphire glass is great and aids a lot in the legibility of the watch under bright lights/sunshine. In a dimly lit room, the glass almost disappears under some angles. Looking at a light through the reflection on the dial, produces a slight blue tint on the glass (probably due to the coating). The sunburst dial is not obtrusive or overly apparent. Under direct sun the dial turns into a brownish black color, in typical SEIKO tradition. The "AUTOMATIC" writing is not standing out a lot, and the SEIKO logo is made of brushed metal. The onyx on the crown was something that had me thinking prior to purchasing, but is blends in with the whole design, and is by no means something that bothers me at all. The band is comfortable and reflects light in many different ways, even the brushed surfaces. I also own a SARB033, and although it is an amazing watch for the money, the SDGM003 is simply miles better in finish. Add to that the size (which was my main gripe with the SARB033, along with the overly reflective glass) and the price difference is well worth it. As far as accuracy, although a bit early to tell, mine seems to lose 3-4 seconds while wearing on wrist, which it almost gains back at night, keeping it in a dial-up position. So far (3 days) it has averaged -1 seconds overall, therefore I am extremely happy with it's accuracy. I am also using the manual winding (10 turns) before storing it for the night (this is not required as it is automatic, more of a personal preference of mine). Service has been excellent on both (SARB033, and SDGM003) my purchases (thank you Amy) and I would definitely not hesitate to recommend shoppinginjapan to anyone looking to buy a JDM watch.