Product Description
On sales again at best price for this Oyaide DB-510 1.0m Digital Cable BNC that has with Insulation Teflon layer, Foamed Polyethylene material, and Shield Copper foil Silver plating copper. The Oyaide DB-510 is 100% made in Japan from Japan!
BRAND NEW - READY TO SHIP - WE HAVE STOCK 100%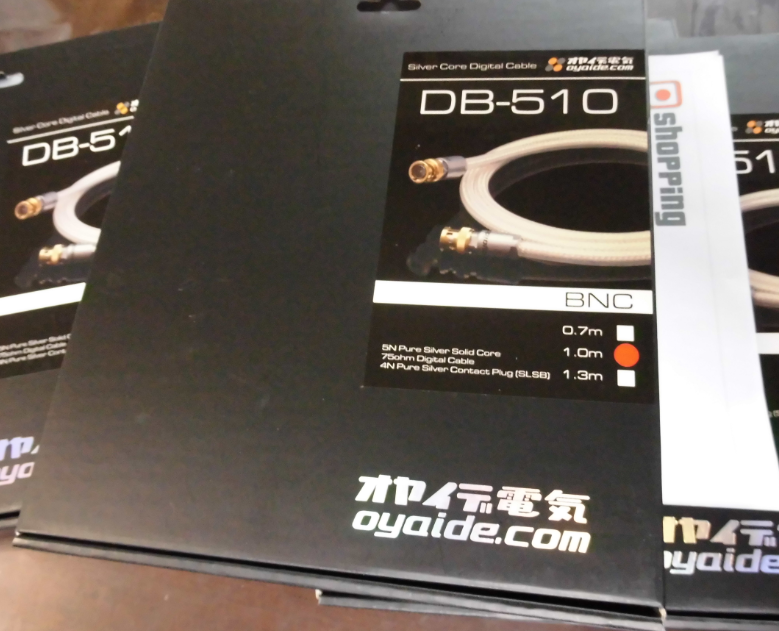 Specification:
Conductor: 1.05mm, 5N (99.999%) Pure Silver
Insulation: Teflon layer + Foamed Polyethylene
Shield: Copper foil + Silver plating copper (more than 95% knitting and braiding)
Semiconductor layer: Carbon
Outer: UV cut polyurethane
Impedance: 75 Ω
Capacitance: 56.5nF/Km
Attenuation: 23.1db/Km
Conductor resistance: 21 Ω/Km
Diameter (outside): 8.0mm
1.0 meter
Other Details
Oyaide Japan warranty is included (valid for 12 months)
Product Videos
Custom Field
Item Condition
Brand-new, unused, and in the original factory packaging
Store Location
Yokohama, JAPAN
Ship By
DHL Express (4-7 days to most countries)
Payment
PayPal, Credit Cards, Bank Transfer, Bitcoin
Import Duty
Import Tax or VAT may be charged in the EU and some countries
Authenticity
The product is 100% genuine with a manufacturer's serial number
Returns
Worry-Free 15 days money-back guarantee
I like the results and build quality of this cable such that I bought another one for my second hifi system. It is very balanced top to bottom. Gives real world substance and tonality to voices and instruments. Very musical.

OYAIDE DB-510 1.0M DIGITAL CABLE BNC

See review above. I have 60 hours playing on the cable now and it will definitely be staying in my system as against the respected cables mentioned in my previous review above. The sound is spacious, dynamic and tonally beautiful.

OYAIDE DB-510 1.0M DIGITAL CABLE BNC

This is an excellent cable. I have it between my Lumin UI Mini streamer and my MHDT Orchid dac. I only have some 28 hours use on it so far, but it is opening up now and performing very much to my satisfaction. I expect to be retaining it in my system as against Stereovox XV2 and Transparent High Performance cables, which I also have.