Product Description
For sales brand new of this powerful Oyaide TUNAMI GPX-R V2 Power Cord that comes with high-speed and dynamic power cable of a new generation. The TUNAMI GPX-R has hort-pitch stranded PCOCC-A wire which has 5.5sq cross-section area actualizes high-power signal transmission. Its cable voltage endurance is 600V and maximum amperage is 30A.
BRAND NEW - IN STOCK 100% - SHIPS FAST - FROM JAPAN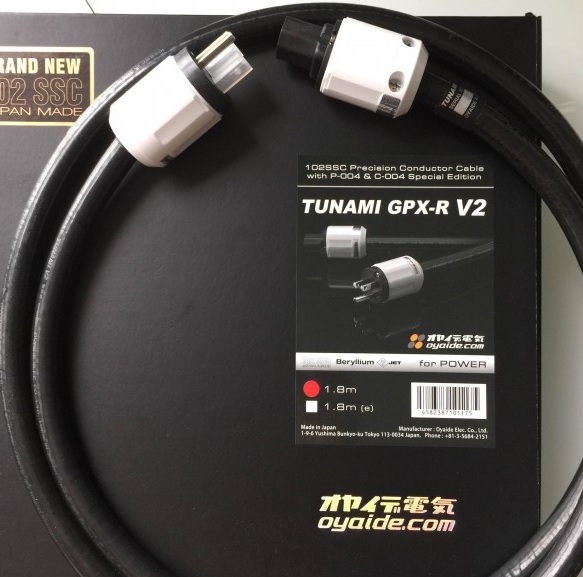 Specification:
Basic structure inherits the first generation "TUNAMI"; New generation power cable adopting precision conductor "102SSC".
Provide aggressive response; Due to the margin of conductor cross section 5.5 SQ, high power transmission with withstand voltage 600 V at maximum 30 amps.
Suppression of sound quality degradation due to line distortion; The short pitch strand wire twisted with the usual 1.15 times tension eliminates random gaps in the conductor.
Use polymeric polyolefin for insulating material; It shows an extremely low dielectric constant of 1/4 as compared with PVC.
Shut out noise; 3 layers shielding by electromagnetic wave absorber / carbon layer / copper foil.
Cable: TUNAMIV 2 (1.8 m)
Power plug & IEC connector: P / C - 004 SPECIALEDITION (aspirin white)
Electrode material & plating: beryllium copper buff finish + platinum / palladium plating
Rating: 125 V / 15 AE certified item
Other Details
Oyaide Japan warranty is included (valid for 12 months)
Product Videos
Custom Field
Item Condition
Brand-new, unused, and in the original factory packaging
Store Location
Yokohama, JAPAN
Ship By
DHL Express (4-7 days to most countries)
Payment
PayPal, Credit Cards, Bank Transfer, Bitcoin
Import Duty
Import Tax or VAT may be charged in the EU and some countries
Authenticity
The product is 100% genuine with a manufacturer's serial number
Returns
Worry-Free 15 days money-back guarantee
I wrote one review before. I only bought two from Shopping from Japan. When I wanted to buy more, it was out of stock. I just can not wait to get one for my MBL 6010D, so I bought one at other place with more expensive price and worry the authenticity. Buy here from Shopping from Japan and you will get low price and worry free.

Thanks Oyaide to provide the excellent product. The US$100,000 system improved from A to A plus. The improvement is just like upgrade a major component. The power cord is essential. Without the Oyaide power cord in the system, the system would be without life.