Product Description
We sell directly from Japan at lowest price for this special version of Seiko Prospex Sumo SBDC069 diver watch that features blue coral color dial, Hard Rex with cyclops len, and anti-magnetic 4,800A/m.
BRAND NEW - IN STOCK 100% - SHIPS FAST - FROM JAPAN - RARE ITEM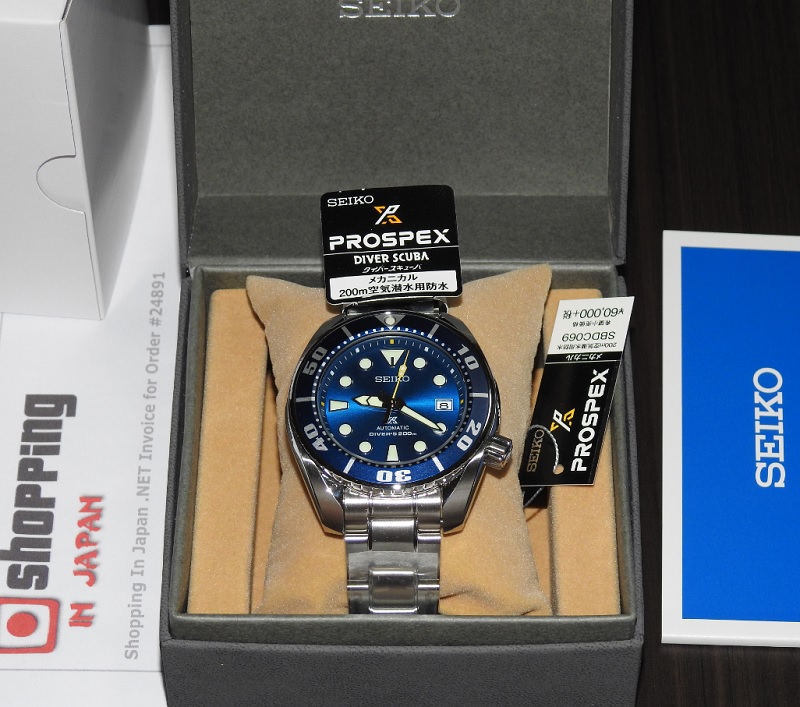 Specifications:
Mechanical Automatic with manual winding
Caliber # 6R15
Blue Dial
Stainless Steel Case Material
Hard Rex
Lumibrite
+25 seconds -15 seconds Accuracy
200m Waterproof for diving
anti-magnetic 4,800A/m
53mm × 45mm × 13mm size
Weight 181 gram
20 mm Band width
Screw back
Rotating bezel
Screw lock type crown
Double lock clasp
23 Jewels
Second hand stop function
Made in Japan
Other Details
Seiko Japan warranty is included (valid for 12 months)
Product Videos
Custom Field
Item Condition
Brand-new, unused, and in the original factory packaging
Store Location
Yokohama, JAPAN
Ship By
DHL Express (4-7 days to most countries)
Payment
PayPal, Credit Cards, Bank Transfer, Bitcoin
Import Duty
Import Tax or VAT may be charged in the EU and some countries
Authenticity
The product is 100% genuine with a manufacturer's serial number
Returns
Worry-Free 15 days money-back guarantee
I waited two years to order the Seiko Sumo model as the dimensions can be intimidating. This watch is beautiful and wish I would of bought sooner. Thank you Shopping in Japan!!

Top service from shopping in japen.net

What a great watch ...it was just what I was looking for...it has significant feel on the wrist...a nicer bracelet then anything else in the 700/760 dollar slot...and the face is sapphire crystal...

Beautiful! This is my second Sumo purchased from ShoppinginJapan. Retailers here understand online retail. 10/10 would purchase again. I will be buying more from them in the future. The watch is awesome!

Really nice watch lovely blue colour. Only thing the strap let's the watch down really cheap feel to it and spoils what would be a beautiful watch.

My first seiko diver lasted me thirty years and I really loved that watch! It went with me everywhere! Through many adventures, mishaps and everyday toil it became more than a watch, more like a mate! When it finally packed it in, I felt like my dog had died! Since then I've had many substitutes, some quite expensive but for one reason or another, none of them quite hit the spot! Until I came across this little beauty! And it is truly a beautiful watch with a stunning dial that loves the outdoors and especially the beach, where it thrives in the surf and the sand! This watch I know is the second generation and has the older 6R15 movement and the hardlex crystal! But everything about this watch is beautiful and rock solid and in the month that I've had it, it's barely left my wrist and has been accurate to about three seconds a day! Another great thing about this watch is that it's Japanese made and at 700 Australian dollars, you don't feel the need to baby it and its below the import tax threshold! Shopping in Japan was also pleasure to deal with and the package arrived in Sydney in less than a week and came complete with some tasty Japanese savoury treats! I love this watch and if I get thirty years happy wear and tear from it! Then I'll be singing seiko praises in the old folks home!

Seiko not helping dealers or Customers

The pins on this watch broke when i wanted to shorten the bracelet which i have done so many times on Seiko watches, but such a stupid idea to have pins with collars so small in these watches. I must say shoppinginjapan is by no means at fault with this aspect as they have been such a great service to me and excellence by their customer service rep Mina. I think Seiko require to look at their customers needs more than what they are doing.

SEIKO PROSPEX SBDC069 BLUE CORAL

Accurate and reliable, I love this watch. Looks much nicer in real life. Supplier service is prompt and courteous. Shipped the first 48 hours and was delivered to Canada in 5 days. Would definetly buy again. Thank you Mina!

I'm very happy with this piece. The dial is brilliant blue and the fit and finish are 100%. Even more important to me than the watch itself was the customer service. I originally ordered the wrong version of this watch and had to cancel the order the next day. Sara, the Shopping in Japan representative, assisted me and made sure I got the piece I wanted. I received my order within 1 week (I live in Canada), well packed and in perfect working condition. I high recommend Shopping in Japan.net

Absolutely gorgeous watch!

I will set a bit of context first as it might help someone who is trying to decide whether this watch is for them or not. I love watches and have been into watch collection for several years now. The watches I buy end up in 3 categories: 1. I don't feel a connection to it and immediately let it go 2. I like it enough to keep it around for a few months or a couple of years and then let it go. 3. I immediately feel a lot of connect with a watch and I know I will keep it permanently. This watch firmly belongs in the third category for me! It has quickly become one of my all time favorites! No matter how you compare, even within the Seiko brand itself, or across brands, this has to be one of the most well- finished watch at this price point. The case finishing is absolutely gorgeous and this iteration (and not the newer generation) has more personality due to the thicker lettering on the bezel. This coral blue is brilliant and I like it better on the Sumo compared to that of the coral blue monster. The bracelet is decently finished but I swapped it out for a Strapcode Crafter Blue rubber strap which increased the visual appeal of the watch even more and makes the watch feel even more upmarket. Lastly, compared to the case size, the watch wears small. I have a 6.75" wrist and that was one reason I stayed away from the Sumo till now. Upon trying it on, this doesn't look oversized at all. So, as long as your wrist size is 6.5" and above, and like the Sumo, just go for it. It is absolutely worth the price!!

SEIKO SBDC069 BLUE CORAL SUMO

Very prompt delivery. Perfect alignment. Watch runs within plus 3 seconds. Beautiful dial and the case is uniquely Seiko. Highly recommend. Buy with confidence before they are discontinued.

orologio perfetto,nuovo e completo di scatola,libretto e garanzia Seiko(made in japan). l'orologio è arrivato nei tempi stabiliti,una volta arrivato in Italia viene gestito e consegnato da Poste italiane tramite corrierre SDA. Quando l'orologio arriva in Italia bisogna pagare la dogana (22%) sul valore dichiarato.