Casio is undisputedly one of the greatest — and most well-known — Japanese manufacturers of watches. Founded in 1946 by Tadao Kashio in Waseda, Tokyo, Casio is a leading brand of electronics and the world's first mass producer of digital watches. As one of the first manufacturers of quartz watches, both digital and analog, Casio has maintained its image as an innovator over the years. Having released various affordable watch types with innovative technology, Casio's products are highly prized by collectors. The original G-Shock was launched in 1983. Although a Japanese brand, Casio is known for its adaptability to local market conditions, as demonstrated by its prayer compass watch tailored to the needs of its Muslim clientele. Casio's Tough Solar technology converts fluorescent light and other sources into energy as well as sunlight. At Shopping in Japan, find some sought-after classic Casio watches at affordable prices. We have authentic, unique watches available online to fit most styles, both for men and women.
Classic, timeless watches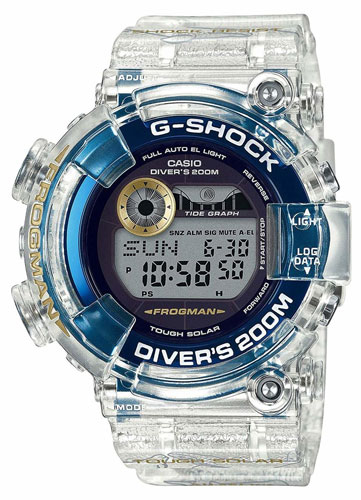 The G-Shock Line of Watches
For all sports lovers, the indispensable G-Shock is what you can go for. Designed for most sports or outdoor activities, the G-Shock appeals to active people who are not afraid to jump into the unknown. Featuring a stopwatch and water-resistant features, this model meets the needs of any person who plays sports or spends time outdoors frequently. The G-Shock series also boasts an extensive line of products and various Casio watch types tailored to fit most lifestyles. At Shopping in Japan, you can find various classic Casio watches, including the contemporary, hard-wearing G-Shock line.
The original G-Shock Frogman version is perfect for divers and any one embarking on underwater excursions, as is the G-Shock Gulfmaster model. For those riding or cycling, the G-Shock Mudmaster line will help you feel at ease in your environment, as you don't have to worry about dust or sand clogging your timepiece. The G-Shock Gravitymaster model offers an extra level of precision needed by pilots, in addition to the G-Shock's customary durability. For those in love with a classic look, the authentic G-Shock Analog Digital has every feature you need and has earned its place among the vast array of impressive classic Casio watches from Japan. Suitable for the office or the gym, this model offers a power saving function to stay active on the go. With LED backlight, you can check the time with ease in any condition.
Find the right G-Shock version for you on Shopping in Japan and other classic Casio watches to find your perfect rhythm.
Oceanus For a Classic Look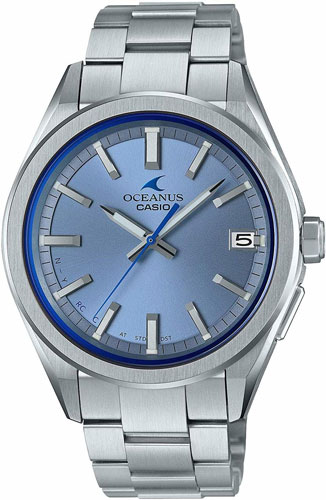 Boasting an elegant design and outstanding technology, the Oceanus is a great choice for urban, stylish, yet laid back people. With a sporty design concept that recalls the practicality of the G-Shock, the Oceanus features advanced technology and radio wave multiband for accuracy. With a stainless steel case and bracelet, the design fits most people's taste when seeking discreet refinement and is a popular, classic Casio watches choice. Wear an authentic Oceanus when you travel or go to the office. We carry a wide selection of Oceanus watches with various colors and styles to fit your mood. Find exclusive watches at the best prices. This line of Casio watches from Japan is truly impressive.
Edifice to Impress
For professional people in quest of power, precision, and accuracy, the Edifice line is exquisite. Boasting elegant timepieces, the Edifice collection is widely recognized as featuring some of the finest electronic watches in Japan and abroad. Displaying outstanding technology — from basic chronograph to wave receptors and Bluetooth — these classic Casio watches make a great long-lasting impression. Comfortable, precise, and truly unique, find your favorite Edifice watch at Shopping in Japan at the best prices.
Impeccable Style With The G-Steel
For those who crave the ultimate style, the G-Steel has unique features to seduce you. Featuring exquisite details like a bezel structure combining both metal and resin materials, this watch is great for professionals as well as adventurous watch collectors. Stay on the cusp of timepiece fashion wherever you go with this outstanding model. With a Tough Solar power charge system that's exclusive to classic Casio watches, the G-Steel can truly meet your needs. You'll never be out of battery or missing an appointment. Watch the time and be confident wearing a G-Steel watch.
Women's Baby G Watches
Try on the Baby G for a cute yet in style appearance. Made for a smaller wrist, you'll enjoy most of the features of a classic G-Shock but with unique design. Crafted for women, the Baby G comes in eye-catching colors and patterns. Stay on time, remain in control, and find your favorite Baby G models on Shopping in Japan. Choose your preferred Casio watch types today at the most amazing prices.
Enjoy Your Next Adventure With The Pro Tek Smart
For those enthusiastic about adventures, the Casio Pro Tek Smart classic Casio watches feature a GPS and built-in saving energy, leaving you free to explore as much as you want with the ability to always check the time!
Browse Vintage Casio Watches
On Shopping in Japan, you can buy vintage models you no longer find elsewhere. Discover our selection of classic Casio watches and find the one you love most. Make sure to look for the technology you are after and get the watch that best fits your lifestyle — whether that be adventure in the outdoors or a more professional, office look. Explore thousands of classic Casio watches and get unique deals at our online store.
Your Trusted Electronics Brand From Japan
For a decade, we've been providing our customers with unique, exclusive electronics, from watches to audio equipment. Our vast selection of JDM watches is truly outstanding, and we take the time to select the most sought-after pieces for our customers abroad. Buy authentic Casio watches from Japan at competitive prices today on Shopping in Japan. All items are in stock and ready to ship — ensuring all customers have access to a great selection. Browse our collections to find your perfect timepiece or to expand your collection.