Stylish men's watches have a place in any setting, but not every timepiece suits every occasion. Just as a different level of dress is appropriate for the various occasions and activities in your life, different watch styles are needed to ensure your watch makes the right statement about you. As one of the most common men's accessories, they hold a privileged place in most men's wardrobe. More importantly, those you meet, whether they be prospective employers, potential romantic partners, or your buddies at the gym, will make judgments based on the timepiece that adorns your wrist. You need to make sure your watch says exactly what you want it to.
Matching The Mood
You already know that certain clothes match certain environments. After all, very few guys would hit the gym for cardio in a button-down, and gym shorts are a little lax, even on casual Friday. Stylish men's watches come in a wide variety of different watch styles for precisely the same reason. Even within a certain category of watches, there may be different styles available to go above and beyond to show off your personality as well as setting an appropriate tone for the occasion. There are rare Japanese watches that are designed to promote causes you're passionate about, reflect your hobbies, or speak to your personal interests, letting your stylish men's watches reveal a little bit more about you, creating connections with your peers.
Professional Watch Choices
Finding sensible and stylish men's watches for office wear can help you make a smart impression. From relaxing in the breakroom to presenting in the boardroom, your bosses are always watching for the next up-and-comer.
Business Professional - For business professional watches, you want something no-nonsense and serious. A watch with a simple metal case and dial, like the Orient DISK, is the perfect no-frills watch for maximum productivity and a great value. If your budget allows it, you could opt instead for a Citizen Promaster, which offers improved features like the Eco-drive self-winding system, while still maintaining a very business-like aesthetic. If you prefer digital watches, Casio has several options similar to this G-Shock that give you the convenience of a digital display with a more conservative steel band.
Business Casual - When your company has less stringent standards of dress, you have more choices for stylish men's watches, but remember that it's better to be a little too conservative rather than too casual. Casio sets the bar for digital watches with several affordable G-Shock models, including the Vibrator line. The Seiko Alpinist offers a flash of color while the leather strap and metal case still keep this timepiece focused on the needs of the business. For traditionalists, the Orient Bambino Cream brings back a timeless look for watches with Roman numerals, a metal case, and a rich leather band.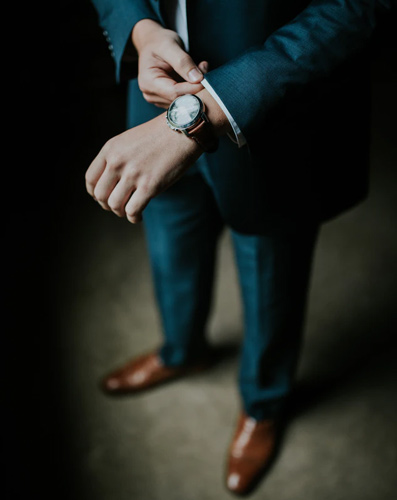 Personal Watches
When you're off the clock, your time is your own, but that doesn't mean you shouldn't have stylish men's watches to feature in your private life. This is where the different watch styles truly come into their own, as Japanese watchmakers are freer to explore the features and looks that create such unique and sought after timepieces.
Athleisure - Whether you are an official gym rat or just like to wear clothes that let you move while you run errands, there are rough-and-tumble Japanese watches to keep up with your high-activity lifestyle. The Casio G-Shock Frogman watches are great for go-anywhere digital convenience. Divers will appreciate the depths to which Seiko goes with the Prospex Turtle Dive and Sumo Scuba watches meant for maximum underwater visibility. If your adventures tend to get you off the ground, a Citizen Chronograph makes a good choice, whether you're on a mountaintop or gliding in the clouds.
Casual - There are a lot of stylish men's watches that fit into this category. While most people would not put a truly formal watch on this list, almost every timepiece we've mentioned is great for wearing on your own time. This is also where you can show off your interests the most. The Seiko Ripley's Alien Spirit offers a unique vertical push-button design. Alternatively, you could get ready to "roll out" with a Casio G-Shock Transformers Optimus Prime. If you have simpler tastes, the Citizen Leather Chronomaster gives you a superior watch with a straight-forward design.
Formal - Even outside the office, some occasions require a higher standard of dress. In those instances, the most stylish men's watches are works of art themselves, without being garish. The Citizen Campanola Eco-Drive provides a beautiful blue background. The Orient Star Skeleton gives you the luscious look of a gold watch with the traditional gears and springs exposed. Meanwhile, the Seiko Astron 8X cranks up the opulence with a limited edition exclusive to the Japanese domestic market featuring real diamonds set in the dial. Each of these is truly a statement piece for your wrist or collection.
Finding The Right Style For You
With so many stylish men's watches, it can be hard to narrow down the different watch styles you need. Start by taking stock of when and where you need a watch. Then consider your present collection and determine which scenarios your current collection doesn't cover. Next, decide on your budget. A fine Japanese watch can be found for as little as $100, but rare and premium models can command prices reaching into thousands of dollars. Now that you know your needs and budget, browse our collection of watches online.
We offer reasonable prices for watches straight from the Japanese Domestic Market. This gives you access to stylish men's watches that normally can't be found for sale outside Japan. We carry a watch with the right features, look, and price to meet every need in your wardrobe. Browse our selection of different watch styles that are in-stock and ready to ship. Buy your Japanese watches from Shopping In Japan now.