Watchmaking is an art and a science. And while there are many geographic regions that can boast proficiency in the art, Japan will always hold a special place in the heart of fine timepiece collectors. Since 1918, Citizen has manufactured luxurious, precise, watches in Japan and beyond. From the Pocket watch launched in 1924 to the Parashock, Japan's first shock-resistant watch, released in 1959; from the Crystron Solar Cell, the world's first analog light-powered watch created in 1976 to EcoDrive Satellite Wave watches, Citizen's craftsmanship has seduced modern watch lovers around the world. Known for their precision, reliability, and functionality with outstanding design, Citizen's watches are truly masterpieces. A pioneer in innovation and technology, Citizen always stays on top of the trends in watchmaking. On Shopping in Japan, find authentic, vintage Citizen watches from Japan that will keep you on time and on trend. Explore our stunning collection of Citizen timepieces and find the design you love the most. We have all items in stock. Get hard-to-find Japanese watches, exclusively on Shopping in Japan.
Most Highly Sought-After Citizen Watches
For the modern urban man, wearing a top-of-the-line watch is not a minor style decision. A truly fashionable timepiece showcases a man's personality: bold, powerful, and confident.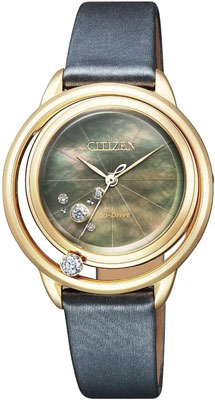 Citizen Promaster Sky watches can be seen in every boardroom and five star restaurant. Offering precision, elegant design, and sought-after functionality, these timepieces provide great comfort and dynamic appeal. Powered by Solar Eco-Drive technology to last longer and made from a titanium case for the ultimate durability, these vintage Citizen watches will let everyone know you're a force to be reckoned with. Dare to wear classic Citizen watches from Japan — such as the Promaster Sky — during a business meeting to impress or while sipping a cocktail on a rooftop in Bangkok or Tokyo. With chronograph functionality and trendy leather straps that come in a range of colors, you'll get the precision and style you deserve.
For those with an active lifestyle, take advantage of the exceptional durability and cutting-edge technology offered by the Promaster Land Adventure model. These watches boast extreme comfort as well as great precision with outstanding technology. Durable, they fit the most active people in search of great style while exploring the outdoors. Express your rugged and attractive personality with any of these majestic, vintage Citizen watches.
If you prefer a more understated style, try out a Citizen Attesa Super Titanium watch. Since launching the world's first Titanium watch in 1970, Citizen has remained the foremost specialist in this material. For constant reliability and perfect comfort, these models are outstanding. Made with a protective coating and boasting a weight 40% lighter than steel, these watches can fit any man in quest of easy-going yet sophisticated appeal. Find the true urbanite in you and showcase your taste for fantastic fashionable watches that stand out of the crowd.
Citizen's vintage watches exceed with their precision and mechanisms. The Exceed EcoDrive One version has a sporty look and accessible design that suits everyday wear for women. Perfect for a laid back look, this solar-powered watch is economical and precise. Never miss the time or an appointment, and reveal your true personality with an EcoDrive watch. Shop your favorite classic Citizen watches for men and women on Shopping in Japan and find your bold statement design.
Luxury Watches, Competitive Prices
A bit of luxury never hurts. Shop any vintage Citizen watches to meet your needs. Be bold and try out any of the watches below to reveal your true sophistication.
Now for a spectacular yet adventurous look, go for a Campanola watch. These ground-breaking watches are truly unique and provide an exquisite appeal with ambitious designs such as a sky dial. Featuring spherical sapphire glass with anti-reflective coating, these pieces are quite an investment, but you'll never turn back. With a crocodile band and quartz movement, these models provide that wow factor that will look magnificent on your wrist. You can't go wrong with a classic Citizen Campanola watch. Light yet unforgettable, enjoy the great comfort of time precision with outstanding luxury with these authentic, vintage Citizen watches.
High-end watches never go out of fashion. With the Citizen Chronomaster, you'll find the most innovative and attractive pieces available. Japanese watches never disappoint in terms of accuracy and durability. Made with high precision quartz and sapphire glass and with impressive features such as a calendar monitor and a battery life warning function, the Chronomaster is the watch for the man who stands head and shoulders above the rest. Master your time and create the life you want wearing any of these splendid Chronomaster watches. Look and feel sophisticated and charming with these vintage Citizen watches.
Focus on innovation and craftsmanship with the Promaster Satellite Wave versions. With a distinct look and inspired by a professional pilot attire, these fabulous watches feature a titanium bracelet strap and suit most formal garb. With GPS radio wave reception, you'll get precision anywhere you go. Ensure all eyes are on you with any of these statement watches.
The Most Trusted Watch Brand in Japan
Shopping in Japan is your go-to source for Japanese timepieces and electronics. We find the most exclusive Citizen watches from Japan and make them available overseas. We sell authentic domestic Japanese watches, which are highly sought-after worldwide. You can always be confident in quality when you shop our selection. Enjoy competitive pricing on authentic, vintage watches, which are in stock and ready to ship.
Stay in style no matter where the fashion winds are blowing with a classic timepiece from Shopping in Japan. Discover other brands you will love and get more styles you crave. Browse our categories to explore more vintage Citizen watches and other Japanese products you crave. Shop collectible, exclusive items that you can't find in your own country, and trust the most reliable retailer from Japan. Check out our blog to gain the latest news and developments in the world of JDM watches. We are an established Japanese dealer you can rely upon. Enjoy fast shipping and our friendly customer service.