Product Description
Still available from Japan on this rare Casio Protrek PRX-7000GF-1JR Manaslu Limited Swiss BASELWORLD 2014 Edition that made only 500 units worldwide that featured with Deep Green Sapphire element, specifically crafted to be embedded in two of the buttons, while the bezel and band of the watch are finished with black ion plating for a dark look plus rose gold ion plating that evokes the color of the setting sun.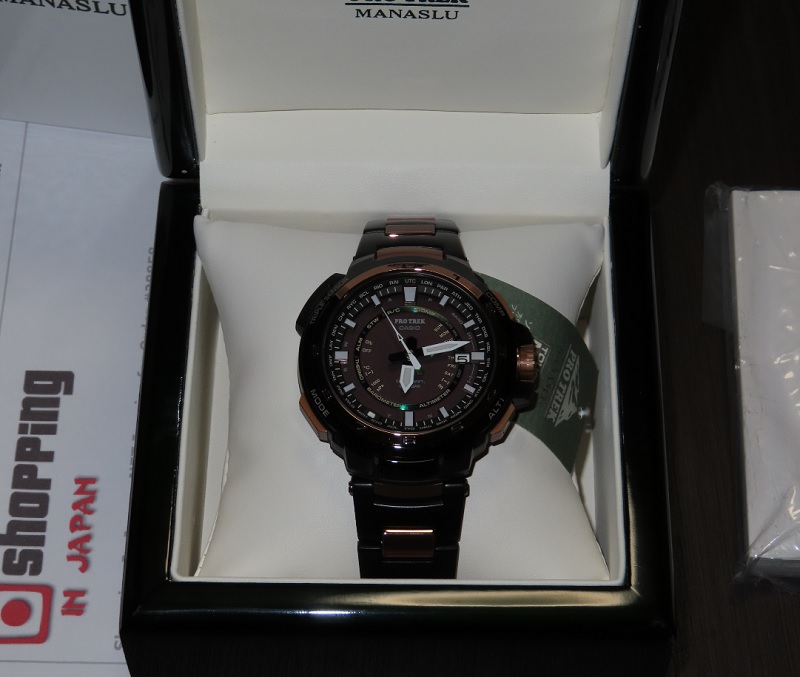 Specifications:
Sapphire glass (anti-reflective coating)
Titanium (IP processing) case
Solid titanium band (Rose Gold IP)
Rose Gold IP bezel
Tough Solar (solar charge system)
10 bar waterproof
Digital compass
Barometer 260 to 1,100 hPa
Altimeter 700 to 10,000 m
Thermometer -10 to 60°C
Smart Access (Electronic crown switch)
Screw lock type crown
Needle position automatic correction
Stopwatch
Alarm
Battery charge warning function
Power saving function
Date / Day Indicator
Fully auto-calendar
Super luminosity LED-light (Full auto light , Afterglow function)
500 units limited worldwide
20.5cm length
120g weight
57.0 × 50.1 × 13.95 mm Size
Other Details
Casio Japan warranty is included (valid for 12 months)
Product Videos
Custom Field
Item Condition
Brand-new, unused, and in the original factory packaging
Store Location
Yokohama, JAPAN
Ship By
International Express EMS Japan Post (Insured) 5-8 days to most countries
Payment
PayPal, Credit Cards, Bank Transfer, Bitcoin
Import Duty
Import Tax or VAT may be charged in the EU and some countries
Authenticity
The product is 100% genuine with a manufacturer's serial number
Returns
Worry-Free 15 days money-back guarantee
Wonderful experience of shopping from ShoppingInJapan.net

By far the most advanced mechanical/digital hybrid wrist watch ! After ordering it from ShoppingInJapan.net, I decided that all my future orders are gonna be only from them. Shopping from them was such a wonderful experience. I highly recommend ShoppingInJapan.net .

Good stuff: + Look: doesnt look like most other ABC watches; doesnt look like a field watch; can take it for a dinner, people not even think its an ABC watch. This is an advantage, because alows me to use the watch for many occasions where it would not be appropriate otherwise. + All analog: its innovative and different + Exclusivity: numbered limited edition only 500 made, so most certainly, you will not know anyone else with one. Now the bad stuff: - Build quality: good for casio standards, but poor by my standards. I have an omega and a gold rolex, that blow this watch out of the water on quality. Yea, you might argue the price difference is more than 10x more, but I would say the quality is also 10x better. Just look at the materials. This casio watch is not 100% metalic... there is still some plastic/rubber on some parts of the case. Also the weight, it feels light for the size of the watch. Light = not good. - Sensors: the compass and altimeter... they do the job if you looking for the way back on your car on a halfday hike, but not good enough for professional use... I would trust my life on these sensors. Overall, its a very nice looking ABC watch, for people that do outdoor activities and care to dress nice. Very overpriced. I will guess huge margins. Casio could sell it for hald and still have huge profit.