Product Description
Price down for this Oyaide MTB-6 Power Strip that made of 2.0mm thick brass board which is highly rigid and has excellent vibration damping property. For Its surface treatment, a combination of nickel and chrome plating is applied to control the hardness of the body. Coupled with the shielding effect of brass, nickel plating reduces exogenous noise in wide frequency range.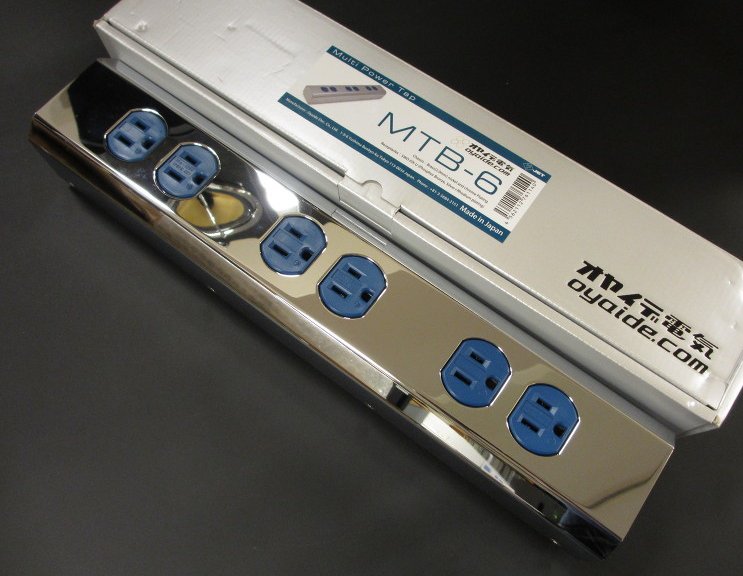 4N Pure silver wire for internal wiring
We employed 2.0mm 4N silver wire for its internal wiring connection. Usually, an annealing process is applied for unstiffening the metals. However, Skin-Pass process is applied for 4N silver wire of MTB-6. Skin-Pass process is the rolling process operated to improve the quality of surface treatment.
Under the strict quality-control, heating temperature and time, drawing velocity and Mohs hardness are all specified in the process. Moreover, the separation wiring is applied to even the sound fluctuation of each receptacle by series wiring.
Audio grade solder
For the soldering connection of MTB-6, we employed SS-47 audio grade solder. Compared to general solders which usually contain 3N (99.9%) pure tin, SS-47 contains 4N (99.993%) pure tin achieved by excluding impurities to the maximum. Furthermore, 4.7% silver and 1.7% copper are contained for the purpose of improvement of electric conductivity and durability.
Mounting pole
The mounting poles are made of brass and set up not only for mounting receptacles but also for minimizing the resonance between receptacles and chassis. Moreover, for the perfect insulation, we put urea resin washers on both sides of mounting flame of receptacles. These enhance power and energy of sound sources.
Other Specifications:
6 outlets
Internal wiring 2mm 4N pure silver wire(Live/Neutral) & 2sq OFC copper wire (Ground)
Receptacles SWO-DX Ultimo (6 outlets, blue)
AC Inlet Original IEC 320 plated by Silver + Rhodium
Dimensions W 70 × H 50 × L 385
Weight 1.6Kg
Chassis 2.0mm brass (chrome plated)
Other Details
Oyaide Japan warranty is included (valid for 12 months)
Product Videos
Custom Field
Item Condition
Brand-new, unused, and in the original factory packaging
Ship By
DHL Express (4-7 days to most countries)
Payment
PayPal, Credit Cards, Money Order, Western Union, Bank Transfer
Import Duty
Import taxes, duties, VAT may be charged in some EU countries
Authenticity
The product is 100% genuine and authentic with a manufacturer's serial number
Returns
Worry-Free 14 days money back guarantee