Product Description
Last units of rare Seiko Prospex SBDC005 Diver Scuba ORANGE Sumo that featured the Polyurethane (Rubber) Band, Resistant to Magnetic Interference, and has Automatic Caliber number 6R15 with 23 Jewels.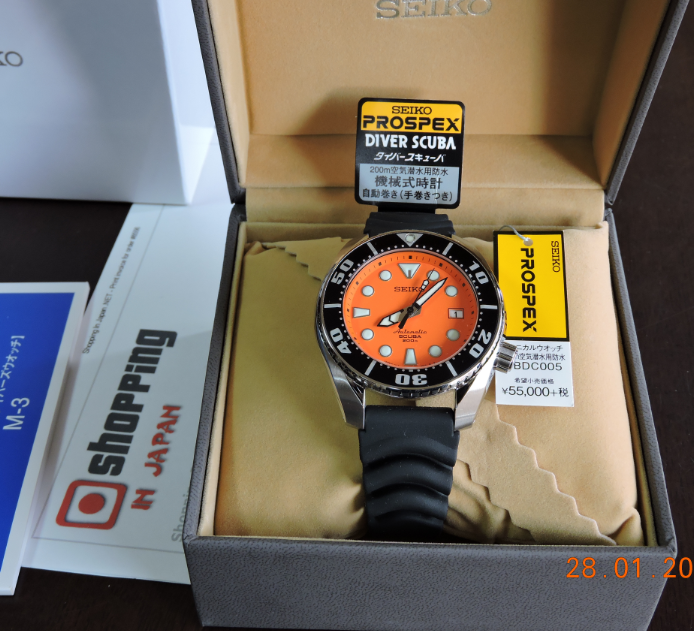 Specifications:
Orange Dial
Stainless Steel Case
Polyurethane (Rubber) Band
Unidirectional Rotating Bezel
Curved Hardlex Crystal
Screw Down Crown
Screw Back Case
6R15 Caliber
Automatic with Manual Winding Crown
23 Jewels
~50 Hour Power Reserve
Accuracy of +25 to -15 Seconds per Day
Water Resistant to 200m
Resistant to Magnetic Interference
Second Hand Stop Function
LumiBrite on Hands and Markers
Case Size 50 x 48 x 13.3mm
Case Diameter 44mm
Band Width 20mm
Weight 114g
Other Details
Seiko Japan warranty is included (valid for 12 months)
Product Videos
Custom Field
Item Condition
Brand-new, unused, and in the original factory packaging
Store Location
Yokohama, JAPAN
Ship By
International Express EMS Japan Post (Insured) 5-8 days to most countries
Payment
PayPal, Credit Cards, Bank Transfer, Bitcoin
Import Duty
Import Tax or VAT may be charged in the EU and some countries
Authenticity
The product is 100% genuine with a manufacturer's serial number
Returns
Worry-Free 15 days money-back guarantee
Better than in the Picture!!

Picture do no justice to the beauty of the watch!! Fantastic sport watch!! Definetely Great for the beach.... But also great for casual wear!! Great value!! Shopping in Japan has terrific customer service right from the purchase time to delivery thru email notifications. I will purchase again!!

About purchase Seiko Sumo Orange dial

The Sumo is very nice.The case is very nice.I am Happy for this. I went it to my watchmaker for regulation and get better precision. Your serviceand communication is very good and I recommend you to my friends. Tanks, Nilson

Thank you very much for my watch it arrived today and I am delighted with it. Your service and communication has been great and I will recommend you to my friends. Kind regards Brian

My colorful Seiko Orange Sumo

Seiko Orange Sumo is robust, not too heavy and at this bargained price, hereby meet my choice. After placing my order, it took 7 days for the process and shipping. Import duty plus Vat total to 12% in Thailand(5 + 7). Now I have been using almost 10 days. Setting the time according to my Nokia mobile phone, my Sumo runs 19 seconds slower(a little bit slower than the standard -15 second), quite disappointed, comparing to my old Seiko 5 cal. 6309 (loss -5 sec. per day). I am getting use to the rubber stiff polyurethane band. Lastly, I really appreciate the Shopping In Japan.Net excellent trustworthy and reliable service.

Great service and tracking, but top value declared on postal package, thus expect 30% extra taxes and fees for Belgium. Love the watch though, even better than the pictures!

Superb item delivered by a fantastic company, excellent communication throughout. 20 pounds import costs on arrival, took 1 week to receive from order date. Do not hesitate to purchase from this company

Спасибо за то, что оправдалась надежда. Получила то что хотела, даже больше. Высшее дополнение моим оранжевым Монстрам. Конечно, это совсем другой уровень. Чувствуется что десятки лет им по плечу. Не успела помечтать, часы уже доставили. Раз и в Питере. Приятный персонал. Тщательная упаковка. Цена лучшая. Еще раз спасибо. Думаю, что я еще вернусь за подарком любимому.

Некоторое время назад я решился и купил эти часы - Seiko Prospex SBDC005. Раньше очень сомневался что они стоят своих денег. Раньше нравился легендарный Монстр. Но одев на руку Seiko Prospex SBDC005 я понял с очевидностью разницу в цене. Это часы совсем другого класса. Не зря они носят имя Сумо. Это символ надежности, монолитности. Внутри любимый мной 6R15 Caliber. Отличный механизм в соотношении качества цены. Я понял, что Seiko Prospex SBDC005 не просто стоят своих денег. Они отыгрывают каждый рубль. К слову, я так и платил. В рублях. Настройки сайта позволяют это сделать. По прекрасному курсу к Ене. Я посчитал и понял что мне не нужно менять и переводить деньги. При такой низкой Ене, мне было выгоднее платить сразу в рублях. Кроме того, цена оказалась заявленной, уже реально ниже других источников. Мне кажется что стоит поспешить. Возможно не так много в мире осталось Seiko Prospex SBDC005. Уверен что они будут через пять лет раритетом. Я уж думаю не купить ли мне вторые? Сервис прекрасный. Никаких нареканий. Продавец по имени Арт, все сделал с учетом моих пожеланий. Внутри коробки меня еще ждал маленький сюрприз. Маленький презент из Японии. Я не ожидал. Спасибо Арт. Возможно ты не борец Сумо, и не японский Самурай, но приятное чувство японского качества и надежной солидности теперь со мной. Первые мои часы, мне продал продавец, девушка. Ами. Я то же ее помню. Последние несколько раз общался с Арт. И даже просто чувствовал его заботу. Приятно получить такую надежность и монолитность в виде часов, а также в такой скоростной и без проблемный сервис.

Ok, thank you very much. Excellent purchase.